SPECIFICATION
MOTHERBOARD
Supported CPU
11th Generation Intel Core i9 processors / Intel Core i7 processors / Intel Core i5 processors 10th Generation Intel Core i9 processors / Intel Core i7 processors / Intel Core i5 processors / Intel Core i3 processors/ Intel Pentium processors / Intel Celeron processors Limited to processors with 4 MB Intel Smart Cache, Intel Celeron G5xx5 family. L3 cache varies with CPU
Chipset
Intel Z590 Express Chipset
Memory
11th Generation Intel Core i9/i7/i5 processors: Support for DDR4 5400 (O.C)/ DDR4 5333(O.C.)/ DDR4 5133(O.C.)/DDR4 5000(O.C.)/4933(O.C.)/4800(O.C.)/ 4700(O.C.)/ 4600(O.C.)/ 4500(O.C.)/ 4400(O.C.)/ 4300(O.C.)/4266(O.C.) / 4133(O.C.) / 4000(O.C.) / 3866(O.C.) / 3800(O.C.) / 3733(O.C.) / 3666(O.C.) / 3600(O.C.) / 3466(O.C.) / 3400(O.C.) / 3333(O.C.) / 3300(O.C.) / 3200 / 3000 / 2933 / 2800 / 2666 / 2400 / 2133 MHz memory modules 10th Generation Intel® Core™ i9/i7 processors: Support for DDR4 2933/2666/2400/2133 MHz memory modules 10th Generation Intel® Core™ i5/i3 /Pentium®/Celeron® processors: Support for DDR4 2666/2400/2133 MHz memory modules 4 x DDR4 DIMM sockets supporting up to 128 GB (32 GB single DIMM capacity) of system memory Dual-channel memory architecture Support for ECC Un-buffered DIMM 1Rx8/2Rx8 memory modules (operate in non-ECC mode) Support for non-ECC Un-buffered DIMM 1Rx8/2Rx8/1Rx16 memory modules Support for Extreme Memory Profile (XMP) memory modules
Graphics
Integrated Graphics Processor-Intel HD Graphics support: DisplayPort, supporting a maximum resolution of 4096×2304@60 Hz Support for DisplayPort 1.2 version and HDCP 2.3.
Slots
PCI Express x16 slot, running at x16 (PCIEX16) For optimum performance, if only one PCI Express graphics card is to be installed, be sure to install it in the PCIEX16 slot. (The PCIEX16 slot conforms to PCI Express 4.0 standard.) Supported by 11th Generation processors only. 1 x PCI Express x16 slot, running at x4 (PCIEX4) 1 x PCI Express x1 slot (PCIEX4 and PCIEX1 slots conform to PCI Express 3.0 standard.)
Supported Storage
CPU: 1 x M.2 connector (Socket 3, M key, type 2260/2280/22110 PCIe 4.0 x4/x2 SSD support) (M2A_CPU)* *Supported by 11th Generation processors only. Chipset: 1 x M.2 connector (Socket 3, M key, type 2260/2280/22110 SATA and PCIe 3.0 x4/x2 SSD support) (M2B_SB) 1 x M.2 connector (Socket 3, M key, type 2260/2280/22110 SATA and PCIe 3.0 x4/x2 SSD support) (M2P_SB) 6 x SATA 6Gb/s connectors Support for RAID 0, RAID 1, RAID 5, and RAID 10
LAN
Realtek 2.5GbE LAN chip (2.5 Gbit/1 Gbit/100 Mbit)
Audio
Realtek ALC1220-VB codec The back panel line out jack supports DSD audio High Definition Audio 2/4/5.1/7.1-channel Support for S/PDIF Out
USB Port
Chipset: 1 x USB Type-C® port on the back panel, with USB 3.2 Gen 2×2 support 1 x USB Type-C® port with USB 3.2 Gen 2 support, available through the internal USB header 2 x USB 3.2 Gen2 Type-A ports (red) on the back panel 5 x USB 3.2 Gen1 ports (3 ports on the back panel, 2 ports available through the internal USB header) Chipset+2 USB 2.0 Hub: 8 x USB 2.0/1.1 ports (4 ports on the back panel, 4 ports available through the internal USB headers)
Internal I/O Ports
1 x 24-pin ATX main power connector 1 x 8-pin ATX 12V power connector 1 x 4-pin ATX 12V power connector 1 x CPU fan header 1 x water cooling CPU fan header 3 x system fan headers 1 x system fan/water cooling pump header 2 x addressable LED strip headers 2 x RGB LED strip headers 6 x SATA 6Gb/s connectors 3 x M.2 Socket 3 connectors 1 x front panel header 1 x front panel audio header 1 x USB Type-C® header, with USB 3.2 Gen 2 support 1 x USB 3.2 Gen1 header 2 x USB 2.0/1.1 headers 2 x Thunderbolt add-in card connectors 1 x Trusted Platform Module header (For the GC-TPM2.0 SPI / GC-TPM2.0 SPI 2.0 module only) 1 x Clear CMOS jumper 1 x Q-Flash Plus button
External I/O Ports
1 x USB Type-C® port, with USB 3.2 Gen 2×2 support 2 x USB 3.2 Gen 2 Type-A ports (red) 3 x USB 3.2 Gen 1 ports 4 x USB 2.0/1.1 ports 2 x SMA antenna connectors (2T2R) 1 x DisplayPort 1 x RJ-45 port 1 x optical S/PDIF Out connector 5 x audio jacks
WiFi
Intel Wi-Fi 6 AX201: WIFI a, b, g, n, ac with wave 2 features, ax, supporting 2.4/5 GHz Dual-Band BLUETOOTH 5.1 Support for 11ax 160MHz wireless standard and up to 2.4 Gbps data rate
Form Factor
ATX Form Factor; 30.5cm x 24.4cm
BIOS
1 x 256 Mbit flash Use of licensed AMI UEFI BIOS PnP 1.0a, DMI 2.7, WfM 2.0, SM BIOS 2.7, ACPI 5.0
Warranty
03 Years
DESCRIPTION
Gigabyte Z590 Aorus ELITE AX Motherboard in Bangladesh
Embrace the facility of Intel 11th Gen processors with the Z590 AORUS ELITE AX LGA 1200 ATX Motherboard from GIGABYTE. Whether you're upgrading or starting an afresh build, you'll find a good range of capabilities within the Z590 AORUS ELITE AX, making this ideal for any builder that specializes in gaming-based components. The Z590 chipset gives you access to an Intel LGA 1200 socket, suitable for a spread of processors. Four dual-channel DDR4 RAM slots can handle memory modules up to 3200 MHz for enhanced multitasking capabilities. Six SATA III and three M.2 storage interfaces allow you to put in various storage drives including PCIe 3.0 and 4.0 NVMe solid-state drives for enhanced system performance.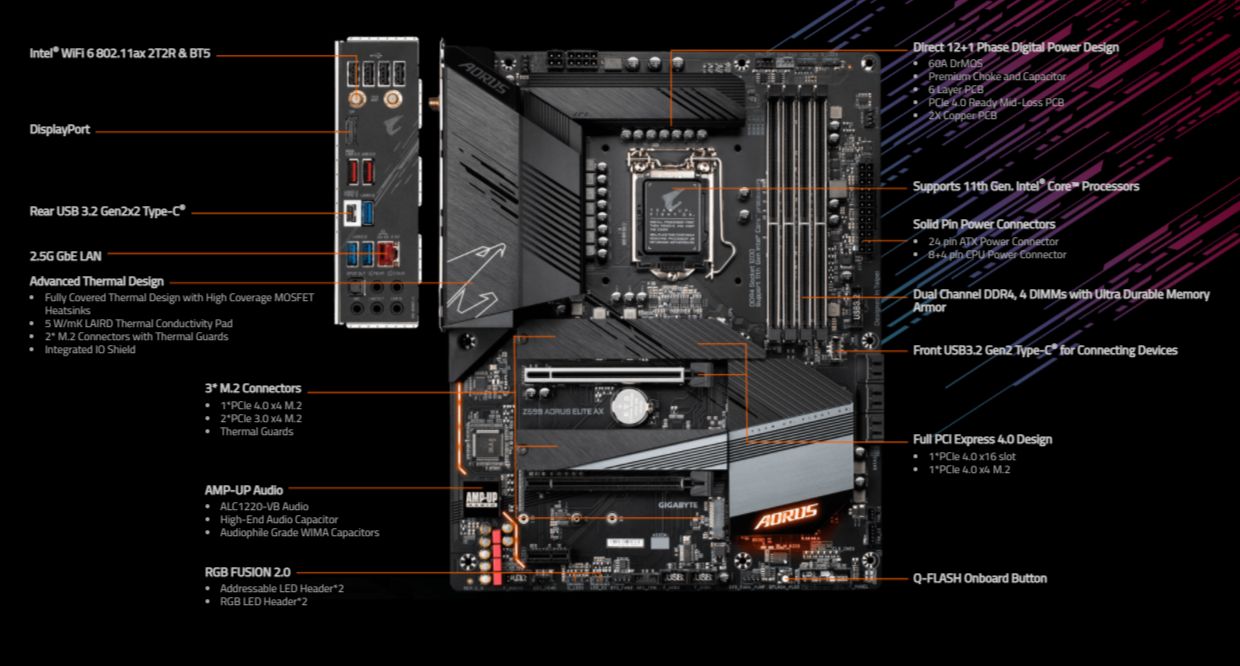 You can use various graphics and utility cards with one PCIe 4.0 x16, one PCIe 3.0 x16, and one PCIe 3.0 x1 slot. USB 3.2 Gen 2×2 and Gen 2 ports allow you to experience enhanced transfer speeds for auxiliary storage devices also as resource-demanding peripherals. Gigabyte Z590 Aorus ELITE AX Motherboard Wi-Fi 6 (802.11ax) connectivity allows you to attach to your wireless network for fast cable-free access. If you favor a wired connection, a 2.5G Gigabit Ethernet port enhanced network performance, essential for competitive online gaming. Various addressable RGB headers allow you to line up custom lighting effects.
Power Design

The Z590 AORUS ELITE AX uses a 12+1 Phase Digital Power Design that maintains electrical stability for your components. Power Architecture works in conjunction with onboard digital PWM, DrMOS, and Ferrite Chokes to manage power efficiency for your CPU, supplying you with optimal performance for your build.
Thermal Design
Gigabyte Z590 Aorus ELITE AX Motherboard Fully covered MOSFET heatsink, LAIRD 5 W/mK thermal pad, and dual M.2 Thermal Guards help dissipate heat, ensuring onboard components are protected against damage caused by excessive heat. Smart Fan 6 contains various cooling features that ensure proper thermal performance while staying cool and quiet. Install fans and water pumps with six headers while six internal temperature sensors monitor the Gigabyte Z590 Aorus ELITE AX Motherboard and activate cooling fans when needed. Smart Fan 6 BIOS allows you to regulate when fans activate and off, putting system controls in your hands.
PCIe 4.0 Hardware Design
When using an Intel 11th Gen CPU, you'll experience enhanced PCIe performance across the computer circuit board. Gigabyte Z590 Aorus ELITE AX Motherboard one expansion port and M.2 connection can utilize PCIe 4.0 protocols for faster program loading and boosting overall system functionality.
XMP Support
Gigabyte Z590 Aorus ELITE AX Motherboard Tap into Intel Extreme Memory Profile (XMP) technology and overclock your RAM with ease. XMP allows you to load predefined profiles through the OS, supplying you with optimal performance counting on your PC use.
Connectivity
The Z590 AORUS ELITE AX is provided with various ports designed to reinforce your external device performance. one USB 3.2 Gen 2×2 Type-C port provides transfer accelerates to twenty Gb/s, suitable for high-end audio and visual equipment. USB 3.2 Gen 1 and Gen 2 Type-A ports also are available for extra resource-demanding peripheral support. Additionally, you'll connect keyboards and mice to the four USB 2.0 ports.
Wireless Connectivity
Designed for high-speed network connectivity by wireless means, the AORUS ELITE AX provides Wi-Fi 6 (802.11ax) capabilities that enhance upload and download speeds, suitable for online gaming. Additionally, you'll utilize various wireless accessories like controllers and headsets with Bluetooth 5.1 technology.
Hi-Res Audio
Producing clear audio with frequencies up to 40 kHz, you'll dive into immersive sound suitable for intense gaming sessions. The Gigabyte Z590 Aorus ELITE AX Motherboard SNR HD Audio and Smart Headphone Amp automatically detect the impedance of your headset, preventing low volume and distortion from taking you out of the sport. The Gigabyte Z590 Aorus ELITE AX Motherboard  VB series audio controller ensures clear vocal quality for your team-based gaming sessions.
Designed for Durability
The solid and sturdy Z590 AORUS ELITE AX motherboard uses PCIe Armor to strengthen the PCIe and RAM slots, providing extra strength for heavy components like graphics cards and reducing ESD interference. Solid-pin power connectors provide a bigger contact area for electrical efficiency, prolonging the lifespan of your motherboard.