SPECIFICATION
POWER SUPPLY
Efficiency (Approx.)
85% Under Typical Load
Fan
120mm
MTBF
100,000 Hours
Connector
ATX/MB 20+4 Pin x 1 CPU/EPS 4+4 Pin x 1 PCI-e 6+2 Pin x 2, SATA x 5 4 Pin Peripheral x 3
Input
Input Voltage : 200-240V Input Current : 5A Input Frequency: 47-63 Hz
Output
650W
Warranty
05 Years
DESCRIPTION
DEEPCOOL DN650 650W EU Certified Power Supply
Features :
Compliant Intel ATX12V v2.31
Active PFC makes the efficiency higher
80 PLUS® 230V EU certified — up to 85% efficiency
120mm silent fan with temperature control function
The longer full mesh cable design supports cable management perfectly
Double-Layer EMI Filter protects from electromagnetic interference & restrains noise
Intelligentized eco-friendly chipset,  consume < 1W in its off-mode, compliant Erp standard
CircuitShield™ —OVP, UVP, SCP, OPP
Supports Multi-Way SLI / CrossFire + Multi-Core CPUs
High reliability with an MTBF of at least 100,000 hours of use
**03 Year Warranty.
DN650 is certified to 80 PLUS® 230V EU, achieving up to 85% electrical efficiency, lowering heat generation and reducing operational costs. The PSU is designed to have < 1W power consumption under off-mode, and is therefore compliant to the Effective Radiated Power (ErP) standard. Outstanding and stable performance of this PSU makes it one of the best choices for a wide range of applications.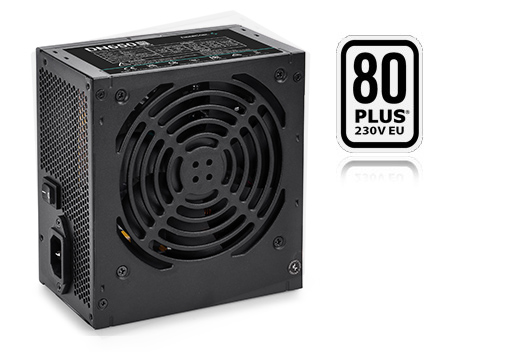 Silent, High Performance
Fan120 mm silent fan with temperature control that provides an incredible performance-to-noise ratio.